Star Saver, a game Casey Gatti was the visual lead on just got released. It's a super cool Metroidvania style game. It's FREE to download and provides a whopping 1/3 of the game for free before the need to unlock the full version.
You play as a Squidly, a Space Squid, hauling around Squishy, The Prince of the Galaxy, on a magic chain in search of the stars that are mysteriously disappearing from the sky. Luckily, Prince Squishy can eat his way though almost anything! Star Saver is a hilarious adventure spanning the galaxy, with over 10 hours of gameplay.
Check it out -> http://bit.ly/1sNbRS9
Read more..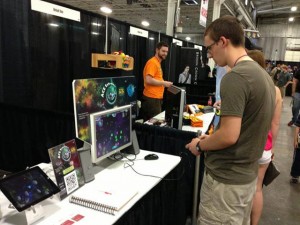 We had a wide range of people stopping by and checking out our games. Everyone laughed or shuttered when they heard their friend speaking through Devil Voice. People jumped when their ship blew up for the first time in Ace Extreme. And gamers were munching away with Sir Squishy in a partner project called Star Saver that Casey is leading the art in.
Along the course of the weekend, Jake (Programmer of Ace Extreme) was sending new builds for us to load into the demo machine. This was truly invaluable as it finessed the experience of the game and attendees got to see it change during their repeated visits to our booth. 
Read more..