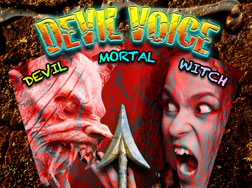 Experience the craziest and most horrifying "real-time" voice changing app ever! Just in time for Halloween! Sound like a DEVIL or cackle like a WITCH with Devil Voice!
Scare your friends, trick your Halloween treaters, and give your little brother or sister nightmares!
COMING SOON for iPhone, iPod touch, and iPad!
"Subscribe" to our site and be the first to know when it's released.
Read more..