HAWTHORNE, New Jersey — April 2, 2009 — ProRattaFactor is proud to announce the release of Ace Omicron, the definitive survival space shooter for iPad, iPhone and iPod touch.
Download Ace Omicron today from the iTunes App Store!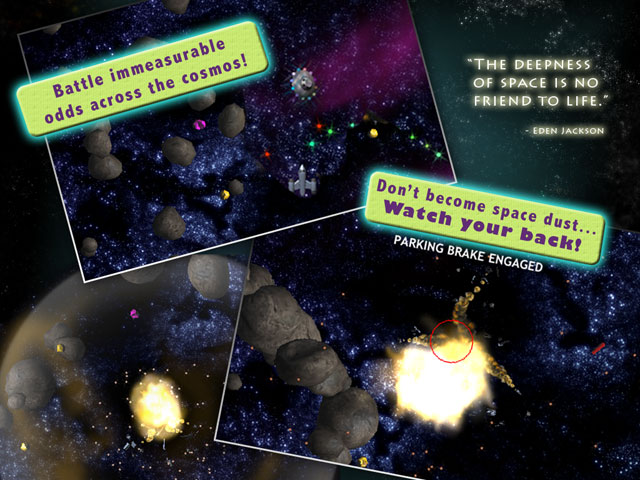 Control Eden Jackson as she fights for existence in the hostile environment of the deep black. She was marooned from her fleet after her hyper-drive engine malfunctioned. Now she has to travel "alone" through the long, gaping breath of darkness to reach home. Her journey starts from the Omicron (the 13th star of her galaxy's constellation). But be wary fellow traveler…the deepness of space is no friend to life.
Rocks of various shapes and forms are scattered throughout the journey. Use your blaster to keep them at bay!
Robots and UFOs also thwart your venture at every path. Destroy them before they destroy your ship!
Harness fusion gems and convert them into ship upgrades!
FEATURES
Awesome 3D graphics and effects
Universal app (Buy only once and play it optimized on all Apple touchscreen devices)
Play the game horizontally or vertically
A selection of modes are available for different play styles:

Hyper (Automatically build your arsenal over time)
Twilight (Weapons are maxed out… now just try to survive the insane onslaught)
Classic (Start with nothing and selectively upgrade your ship. For old-school players)
(OpenFeint integration is coming soon. We would have had it integrated at launch, but the iPad version of OpenFeint wasn't ready yet.)
Read more..
Posted in News by proratta
7 Mar 2010
Hawthorne, New Jersey — March 7, 2010 — ProRattaFactor Games announces ACE Omicron™, coming soon for iPad, iPhone, and iPod touch! ACE Omicron takes place in the deep black of space as a stranded cosmonaut Eden Jackson struggles to find her way home. Her journey starts from the Omicron (the 13th star of her galaxy's constellation). Along her path, Eden will face the volatile elements of the cosmos. Rocks, comets, robots and UFOs will impede her travels. Help her reach home.
Learn more about the game:
http://www.prorattafactor.com/games/ace-omicron/
ProRattaFactor Games is an independent studio dedicated to producing the best iPhone, iPad and Mac games. One of our passions is in developing retro-infused video games: In which we've released Touch Attack for iPhone; and Adventures of El Ballo, a retro platformer for Mac.
###
1 Comment // Read more..