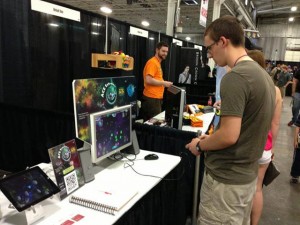 We had a wide range of people stopping by and checking out our games. Everyone laughed or shuttered when they heard their friend speaking through Devil Voice. People jumped when their ship blew up for the first time in Ace Extreme. And gamers were munching away with Sir Squishy in a partner project called Star Saver that Casey is leading the art in.
Along the course of the weekend, Jake (Programmer of Ace Extreme) was sending new builds for us to load into the demo machine. This was truly invaluable as it finessed the experience of the game and attendees got to see it change during their repeated visits to our booth. 
Read more..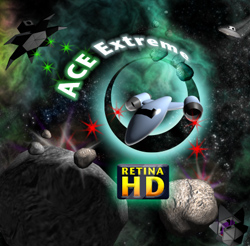 The new game engine is now ready. The first project that we're bringing over is Ace Omicron. However, the name is changing to ACE Extreme. Sounds extreme, huh?
We are adding a bunch of features to it: new game modes, making it support Retina-screen MacBook Pros and iPads, and are shooting for a summer release. It'll be available on the Mac App Store and iTunes App Store. We'll be demoing the game at the TooManyGames expo held in Oaks, PA from June 14-16, 2013.
And… it's a good time to upgrade to Mountain Lion (10.8) as Ace Extreme will require it ;-P
Read more..