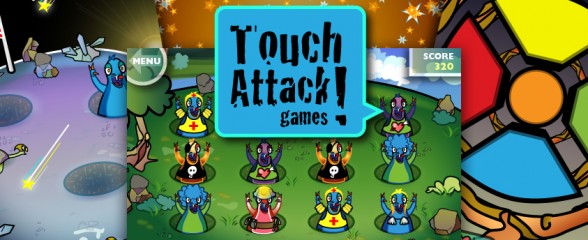 So, you think you have quick reflexes and a snappy memory? Touch Attack Games is a collection of mini games that'll test your reflexes and push your memorization skills to the limit. The gameplay is fast paced, the music is rockin', and the replay value and level of customization truly set this game apart from any other of its genre. It's simply the best iphone family game out there.
GAMES INCLUDED:
Touch Attack
Use your quick reflexes to blast critters out of holes…but don't touch the friendlies.
Memory Attack
Use the colors and unique audio tones to help remember the pattern presented to you.
Match Attack
Those critters are back at it again; but this time you have to remember the holes they pop out of.
Social Gaming Fun
OpenFeint integration has been added! Players can compete in "global leader boards" and win "achievements." The leader boards have been split into three groups, reflective of each mini game: Touch Attack, Memory Attack, and Match Attack. In addition, we've had some fun in creating a great set of achievements that will push player's reflexes and brains to their limits.
Buy now:

Download demo:

System requirements:

Device Requirements:

iPhone, iPod touch and iPad
Requires iOS 3.1.2 or higher
9.8 MB

Screenshots

Other games and apps