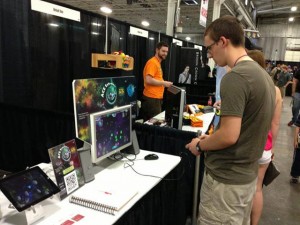 We had a wide range of people stopping by and checking out our games. Everyone laughed or shuttered when they heard their friend speaking through Devil Voice. People jumped when their ship blew up for the first time in Ace Extreme. And gamers were munching away with Sir Squishy in a partner project called Star Saver that Casey is leading the art in.
Along the course of the weekend, Jake (Programmer of Ace Extreme) was sending new builds for us to load into the demo machine. This was truly invaluable as it finessed the experience of the game and attendees got to see it change during their repeated visits to our booth. 
And boy was the feedback incredible. Not only did we receive ideas to help strengthen and polish the game, but overall everyone really enjoyed it! This is fantastic as it reinsures to us that we went into a good direction.
We also had some awesome indie game booth neighbors. Null Foundry was sharing their super engaging multiplayer game Bit Blaster (working title) that's being developed for PC, Mac, and the Ouya console. On our other side was Default Dan, a platformer for Mac, PC, and iOS that throws the rules of the platform genre upside down. Just check it out. Also, let me not forget Bungee Ferret Tossing from yyrGames directly across from us.
Big thanks to the gamers and fellow developers that had time to swing by our booth and check out our games!
- Casey